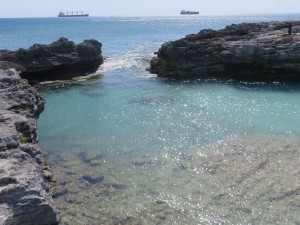 My husband, T, is from The Bahamas – The beautiful Bahamas that can boast of more than seven hundred islands, rocks and cays. He grew up on Grand Bahama which is one of approximately thirty inhabited islands, but also lived in the capital of Nassau on New Providence for a short while before leaving for college in the States. The number of years he has spent abroad has now caught up with those that he lived in his homeland, but he still maintains a strong Bahamian identity: An aquamarine, gold and black flag greets him every time he pulls his car into the garage; he makes a mean peas and rice; it was from him that I first heard the words 'potcake' for a dog of indiscernible breed, and 'tingum' for pretty much any noun; and, thanks to a certain oft-played cassette (yes, I did write cassette!) I have more than a passing familiarity with some of Phil Stubbs' songs.
Although his visits back have not been very frequent, a family trip in May for a dear cousin's wedding was so rich in all that brings a smile to both the lips and heart that the lengthy period of absence lost its importance. His list of must-dos and must-eats was just as comprehensive as mine had been for Trinidad, and Nana and Papa went above and beyond to ensure that we experienced as much as possible in the seven days that we were there.
For those of you familiar with Bahamian culture, it will come as no surprise to learn that one of the items at the top of T's list was conch. It is a staple of Bahamian cuisine and is prepared in a variety of ways. There is conch and rice; conch chowder; grilled, stewed, and steamed conch; battered and fried conch fritters and cracked conch; conch souse; conch salad and probably many other dishes with which I am not yet familiar. Given that fresh conch is not available where we live and that our frozen reserves of Nana's fritter batter are long gone, you can understand the gravity of T's deprivation and his joy at having been reunited with the marine delight.
For Little L and Littler B, however, it became clear that sugar cane was their preference. They were intrigued from the moment they saw Papa reach for the tall, strange sticks that were propped against the kitchen wall. With unwavering attention they looked on as he carefully peeled away the tough skin and cut the fibrous stalks into smaller pieces. Their interest then soared when they understood that these were no ordinary, garden-variety sticks, but tasty ones that they could chew to their hearts' content and from which a sweet juice could be extracted. Uhmm … jackpot! The timing of our visit was also such that the children were able to enjoy a number of local fruits that were in season. Scarlet plums, dillies, mangoes, cocoa plums and tamarind all made it past their little taste buds, though as delectable as they were, none could possibly dethrone the highly favoured sugar cane.
Despite the impression that I may have given thus far, we did not spend all our time eating. There were family gatherings and visits which facilitated Little L's continued quest for new cousins; pre-wedding activities in which she, as one of the flower girls, was most pleased to participate; search missions among the plants in Nana's garden for curly-tailed lizards; and lots of running after Littler B, whose inter-island spree of destruction claimed further ceramic casualties, and whose keen interest in his grandparents' dog, Oreo, resulted in the poor creature's numerous disappearing acts. There was also a function in recognition of T's achievements at which he spoke with students about his academic journey and their own educational goals; as well as a much-anticipated trip to the beach – Paradise Cove, where we built sand castles and floated in water that embraced every shade of blue imaginable. But the true highlight of the visit was, of course, the wedding. Simply put, it was glorious: from the exchange of vows beneath a white lattice gazebo before an azure horizon, to the reception where the young, not-so-young and in-betweeners got down to calypso, soca, reggae and dancehall.
Unsurprisingly, the trip came to an end too soon (well, maybe not for Oreo, who came out of hiding to escort us to the door and to most likely confirm that Littler B was really leaving). With homemade banana-nut bread packed for our journey back to the States, we said goodbye to Nana, Papa, and a truly wonderful time in The Bahamas. Hopefully, not as many years will pass before the next visit, but in the interim I will have the contentment of recalling fond memories from that week in May. For even now, three months later, I smile to think of breathtaking sunsets over the sea, and a pair of coconuts left anonymously at the front door, in true island style.