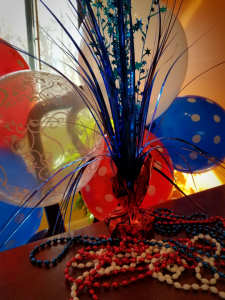 Yesterday, Little L, Littler B, and I accompanied T to the City Council Building in Knoxville where, just after noon, he became a citizen of the United States of America — 22 years after having left the Bahamas to attend college. It was the type of occasion that leaves one's mind and heart full. Mine were brimming: from wondering about the individual journeys that originated in 45 countries and converged for a few hours in a Main Assembly Room in Eastern Tennessee; from witnessing and sharing in the emotion that accompanies the culmination of said journeys; from being acutely aware of the many other persons whose own journeys are becoming increasingly difficult; and from the words of a retiring Chief US Magistrate Judge who was presiding over such proceedings for the last time.
Many of the Hon. C. Clifford Shirley's remarks resonated with me, but I wanted to share these four:
"It is my privilege to welcome you to citizenship and to remind you that soon you will become citizens of a nation that is grounded on the principle that all persons are created equal; that all persons have an equal opportunity to pursue happiness and to better themselves without regard to race, without regard to creed, gender, religious beliefs, or where you were born";
"We are not a perfect country. We do not always live up to our ideals. Some give in to the fear of the different even though we are all heirs of immigrants. Far too many take for granted that unmerited good fortune, like myself, to have been simply born a citizen of this great country. And we forget the immigrants' shoulders upon which we all stand";
"It is citizens that are the greatest resource — the greatest natural resource of the United States of America. It is you who will bring us energy, enthusiasm, and fresh ideas. This is what makes our country great. But our country will only remain great if the character and will of its citizens provide for it. And that will now include you";
"And know this. If you know nothing else, know this: You are welcome here. You are welcome here!"
It is the fourth that, on January 12, 2018, I am sure America's newest citizens were most happy to hear.