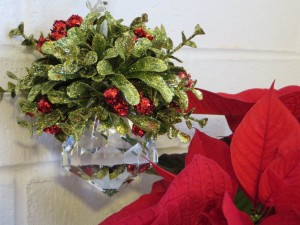 My preparation for Christmas began early this year. Fruit was set to soak for black cake, Promasa and banana leaves were sourced for pastelles, and rum bottles were emptied (ahem!) for sorrel and punch de crème. Everything was perfectly prepared. Mentally, that is. Sadly, my culinary Christmas reality was quite different. Christmas Eve found me scanning the grocery shelves for currants and rose essence, reluctantly relinquishing the idea of following through with the labour of love that is pastelle-making, and thinking of how best to stretch out a gift of punch de crème that was already "in short pants". Procrastination, being the thief of time, had made off with the perfect Christmas I had envisioned.
But don't feel too sorry for me. It's not as if I don't know better. I know that the fruit for black cake is traditionally put to soak in rum and cherry brandy months in advance, and that pastelle-making is an incredibly lengthy process. In fact, I have many fond memories of bounding downstairs on "pastelle day", even before the sun rose, to help oil already-scalded banana leaves, flatten balls of cornmeal, fill them with well-seasoned meat, olives, capers and raisins, fold the edges over, wrap them up, and secure the little parcels with twine before putting them in a pot to steam. Like I said, a labour of love. Neither pastelles nor black cake made it off my recipe pages this year, though, and I was more than a little disappointed to have neglected such important seasonal traditions.
Then I considered all the wonderful moments my family has experienced over the past few weeks: Little L hanging the first decoration on the Christmas tree; Littler B enduring his first haircut; setting up our crèche and Advent wreath; wrapping presents late at night with my husband; dancing to parang and carols in the living room; sharing meals with friends; chatting with loved ones far away… and the fact that I didn't accomplish some of the other stuff no longer seemed like such a big deal.
So, today – December 31st – I'll boldly apply the same thinking as I mull over the last 364 days of the year. I did not accomplish everything on my to-do list, but 2013 was certainly filled with moments worthy of reflection. Beautiful, surprising, inspiring moments that I will take into 2014. 'Tis the season to be merry, reflective, thankful and optimistic. And as for you, Procrastination? I'm already one step ahead for next year: The empty punch de crème bottle has been washed and stored!
Have a very happy New Year, my friends. May 2014 be all that you wish for, and more!